Check in Times At The Airport
Appropriate Check-in times
Your Check in time varies according to your airline and there are several options available for check-in for the flight. Keeping this in mind you are suggested to arrive with plenty of time to pass through the check-in and any other airport procedures such as immigration. then you will arrive with plenty of time for departure then the procedures won't take much time to get you through. Generally as a rule you should be available at the airport two hours or one and half hour before the flight departure time. On arrival you must get into the queue with your tickets ready, with your passports and any other necessary documents in your hand ready to show the officials.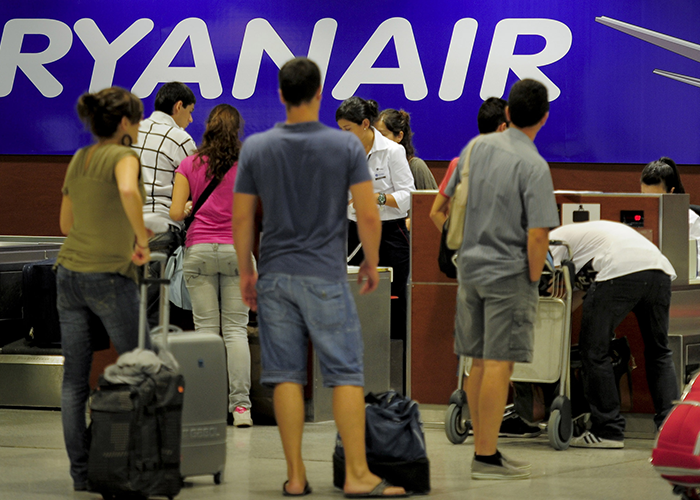 Domestic & International check-ins
Domestic flights are that much easier to check-in. For domestic flights less documentation and verification is needed. You will be given a boarding pass and preceded further to the security checkpoint after you get and obtain your boarding pass. If you wish to catch an international flight you should be available at the airport two to three hours before the departure time.Since international flight check-ins are a bit time consuming so for a smooth process if you arrive early and well prepared you won't be having any problems in checking-in. To get your boarding pass you have to go through this course of action similar to that of domestic check-ins with all your documents ready to hand passport etc.
Getting through the check-ins Process
You must have all of your documents ready including your visa and other papers if you are planning to migrate to another country or aspire to study abroad. You must possess all evidence such as i.e. bank statements, return tickets and passport that you provided at the time of applying for your visa. If you follow the process it won't take to long and you will get through to the flight departure area in less time than you think.. So simply follow the procedure to avoid any unfavorable circumstances which can compromise your valuable and precious time
Necessary Documents & Papers
Wherever you wish to travel, a check-in process depends whether you are taking a domestic flight or international flight. Usually an agent verifies and checks for your valid documents at the time of check-in. Depending on your type of visit to a destination you are supposed to have your passports, visas, letters of invitation, purpose of visit, tickets and proof off where you plan to live called accommodation. Different countries have different traveling criteria but passengers travelling to countries like the United States and the United Kingdom must fulfill the requirements of that country. Passengers are usually asked their name and address, their contact details, their place of accommodation or where they plan to live once they arrive in the United States or the United Kingdom.
Check-in Online
Personal information of travelers is now also collected through online portal after flight booking and is known as Advance passengers Information (APIS) or secure flight or e-boarders. This information is provided from your passport and is prerequisite by some countries. You will be provided all information after booking confirmation. Once you get e-ticket and confirmation email by the airline you are traveling through, you can log on to the website or you will be directed to the website for online check-in. By using your provided API you can also directly login to the website, you will insert all information provided on your booking invoice.
Check-in facility by Airlines
If your flight provides online check-in, on inserting API information you will find check-in option available for your flight, complete online check-in at the same time. Online check-in is available for 14 days before flight departure. You can check-in online from 7 days and choose your seats. In case if you would like to avail facility through travel shops, there is a small fees. Travel shops are alternatives and they enter your API information for you. If you want to make some changes in your provided API you are asked to re-enter your passport number for security reasons.
Luggage Allowed to Passengers
Passengers are informed about the weight they are allowed to carry during traveling. Security personnel check and seal the baggage when the passengers hands over to them at the check-in. If the baggage is above prescribed weight limits or if passengers carry with themselves things that is not allowed by the airline, are usually handed over to the agent at the time of check-in. Baggage restrictions are implicated on the basis of traveling class. Different Airlines have different policies regarding to the quantity of luggage permitted on their aircraft and passengers are strongly suggested that information regarding to luggage is acquired directly from the Airline before travel.
Luggage Limitations
The present limitations on the size of luggage that can be carried to the restricted zone of the airport with bag no larger than 55 cm x 46 cm x 24 cm. Passengers are allowed to carry liquids, gels and pastes through security check if the liquid is carried in a transparent re-seal-able plastic pouch or bottle of not more than 100 ml. Passengers are suggested to prepare liquid pouch or bottle not more than one liter of volume. Electronic items are screened separately and they have to be removed from bag packs and hand bags. Electronic items like mobile phones, tablet PCs and laptops should be charged and can be used if needed.
Healthcare & Medication
Passengers are also allowed to carry prescribed medicine in 100ml container or plastic pouch through security. Medicine must be prescribed by the doctor, passengers are suggested to take medical prescriptions or proof of medical treatment and they are only allowed quantity of medication through the security which is needed for their journey. Necessary baby items can be carried in hand luggage; there is no restriction on baby items except for prescribed medication in case of child's illness. Passengers are suggested to check their airlines for further information about luggage and weight allowed during journey and this information is also printed on the back of your ticket.
Various Check-in Options
Many airline services entertain their customers with several check-in options to save their time and avoid hectic situations. The options available are Automatic check-in (e-mail), automatic check-in (mobile boarding pass), Web check-in, self-service check-in desks and Airport check-in desks. When booking a flight, passengers will be given option for online check-in. After online check-in the passengers will receive boarding pass 12 hours before flight departure. The boarding pass received through e-mail can be printed. You can receive flight confirmation and boarding pass via SMS. Once you confirm booking you can choose the option whether to avail e-mail services or SMS services.
Checking-in at the Airport
If you chose to receive boarding pass directly to your cellphone, you will be forwarded an electronic version of barcoded boarding pass. The process is hassle-free and paperless and is devised for your convenience. You can also avail self-service kiosks available at the selected airports. By using interactive touch screen you can also check-in for your flight, choose your seat, print boarding pass and head for check-in. Kiosks allow you to select your seats from available seats. You need booking reference and identification for check-in via kiosks. If you have a return flight with 24 hours you can also check-in for return flight at the same time.
At the Departure Lounge
After you have completed all formalities i.e. check-ins, security clearance and luggage drop, now you can walk to the passenger lounge and wait for your flight until your flight is ready for departure and announcement is made for passengers to move to the departure gate. At passenger lounge you can avail all facilities from food to clothing. You can find plenty of cash machines to draw your money in case if you haven't drawn money from the account for your journey. Many airports have postal services, if passengers forget to post any important document in hurry they can submit their documents through airport postal services.
Airport Amenities
Because smoking is prohibited inside airport therefor chain smokers are provided a smoking area where they can smoke. You can find several Bars, restaurants and café inside the terminal building. If you are fond of food or wish to enjoy different cuisines or want takeaway, you can simply walk to the restaurants and order your meal. Vending machines are also available to save your time. Passengers with children can send their children in play areas while they can wait or take advantage or other available airport facilities. Play areas are designed to facilitate children below 6 years old. Business travelers can book meeting rooms for their discussions on important business affairs.
Inside the Terminal Building
Terminal area is the busiest place and there is always a continuous flow of travelers at departure and arrival. In such situations business travelers need calm and peaceful place to discuss their business affairs. Many airports have meeting rooms separated specially for business travelers. While waiting for departure call passengers can also shop at duty free shops built inside terminal building. Duty free shops offer tax free products. When announcement is made for departure, passengers should take out all important documents which they are supposed to show at the departure gate and to the cabin crew and then passengers are allowed to take their allotted seats to enjoy their flight.